June came but we wanted more...
More drama than hardcore, don't know what we're fighting for...🎶
Lagos, Portugal. June 2019.
Noticing/Feeling/Missing:
Like I'm living in a time warp and just trying to make it till July 21st so I can go back to MI and sleep (even though I'm absolutely enjoying summertime Chi)! Also missing my students in Spain. It's crazy how making and feeling at home works. I'm looking forward to the fall cuz y'all know I'm already working out some travel plans — London in October for Black Girl Fest + Leeds, England (for a Mahalia concert) & (Italy for life) in November. Also loving how tan I am! NOT loving all the processed food back in the US of A and neither is my body + skin. Your girl is feeling bloated and pimply. Clearly I can't eat the same way I do in Spain here.
Liking:
The feeling of being in my house and being back on US Netflix so I can continue rewatching Grey's Anatomy for the hundredth time. Walking barefoot in my driveway and yard.
Reading:
BOOKS: I didn't get to my two books last month which means I have to fit in two more somewhere in the last half of 2019 in order to end up with 24 in December. Here's what was on the docket in June (The Path Made Clear & A Curious Mind) + what I'm attempting to read now (Friction + Color Me English).
ARTICLES: Spotify & Your Emotions | What is some art so expensive? | August Savage | Tech Bosses as Art | Archiving Beyoncé | Decolonizing Travel | Intersectionality Wars | On Being Vaguely Right | Congolese Comic Books | Black Women & the Right to Vote | Writers Who Cluster | Conduction | History & Food | Court Packing | Granny Panties | Rosie in Black | Feminism & Film | Tomatoes & Slavery | A Prison Survival Guide | About FGM (Female Genital Mutilation) | Bookshelves & Grief | Mapping Detroit's Art | Queer Housesitting
Listening to:
Watching:
The Price of Everything | Beyoncé's First Spoken Interview in 6 years
Working on:
Letting things, people, and projects go.
Launched/wrote:
Lots of things in my drafts that will maybe be shared out at some point & a trip for my girls (FINALLY).
Studying:
Travel Writing | Nieman Storyboard
Went to:
Seville, Spain | Lagos, Portugal | Faro, Portugal | New York City, USA| Turkey
Home (Michigan, USA) | Evanston/Chicago, IL
Going to next:
If I was in NYC: Basquiat at the Guggenheim + August Savage: Renaissance Woman Exhibit
Wanting:
A The New Yorker tote bag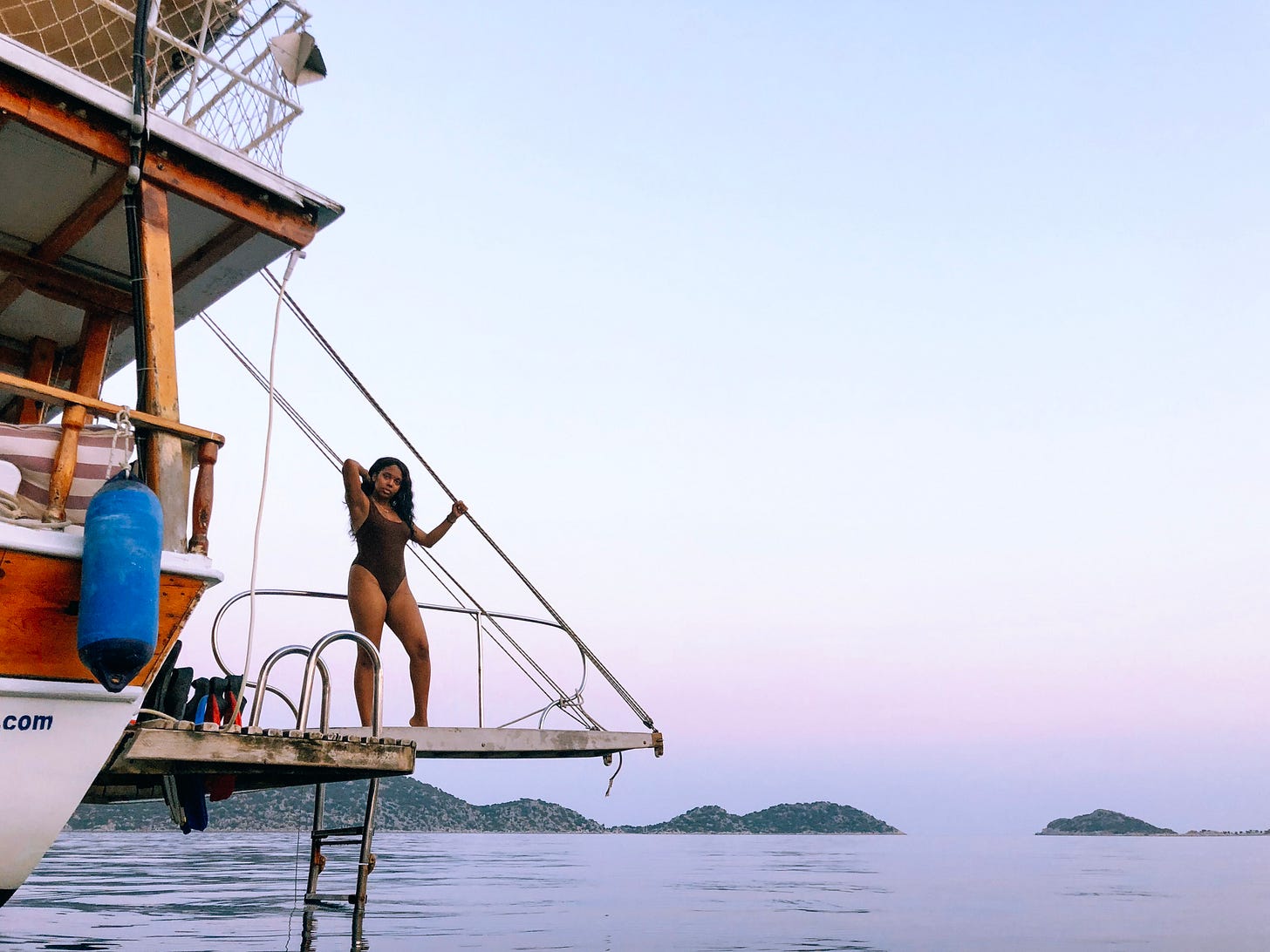 Kekova, Turkey. June 2019.
to be continued…
Gabrielle
*This newsletter does use affiliate links which means if you buy something through one of the links I will get a small commission. It adds no extra cost to you. Pero like, if you were gonna buy it anyway, why not support your girl in the process?