I'm not even going to say that this year has gone by fast because I actually feel it's gone at a pace I can keep up with — for the most part. Life sped up some from April to now, but not in any crazy unmanageable ways (except for like the last week, don't ever let me be on that many planes in two weeks time again). I can tell you where my time and energy went in Q1 + Q2 and I can tell you where I want it to go moving into the rest of this year and Lord willing the next.
I'm typically a woman with a plan and laundry list of goals and something I've been actively working on this year is focusing less. Sounds funny right, to focus on focusing less? It's where I'm at though. Pairing things down. Getting specific. Growing in-tune. Letting projects and hopefully some people go. You may have heard me reference this before, but I'm just working on getting my heart right. Getting my mind right. Getting me right. It's so easy as a creator to get caught up in the analytics of it all, in creating what you think or what your audience tells you they want to see even if that's not what resonates with YOUR heart/mind/body/soul. And if I'm being honest (which I always am in this space) I've been operating from that place concretely for the last year or so. It's exhausting. It's why I'm burned out on my projects. It's why I've been fighting the changes I know I need to make. I've gotten attached to what others have told me about me instead of what I tell me about me, instead of what God tells me about me.
I'm working on undoing that.
I journaled this morning before breakfast just to spend some time with myself and realized that it's just not realistic for me to keep going on this way. My spirit feels heavy. I'm out of sorts, discombobulated. I'm not writing. I'm not drawing. I'm not sewing. I'm not podcasting. I'm not producing anything — not creating for myself, not sharing anything but this newsletter with others. It's like all I've got in me is research and Netflix. Netflix and study anyone? The problem with that is that I know enough for this season. I need to do in this season. And not talk about doing, not tweet about doing, not Instagram story the doing so folks know I'm doing it, just doing in this season. Doing the things I know to be true. Doing the things that have been revealed to me. Doing the things I know to do.
It was also this morning when I realized I don't have a public affirmation for this month. Not one that I wrote myself and made in photoshop to share with you.
I do have this poem though. This poem I continuously come back to. I can't remember when I discovered it, but I know it has been important to me since I did. I'm going to share it now, with you.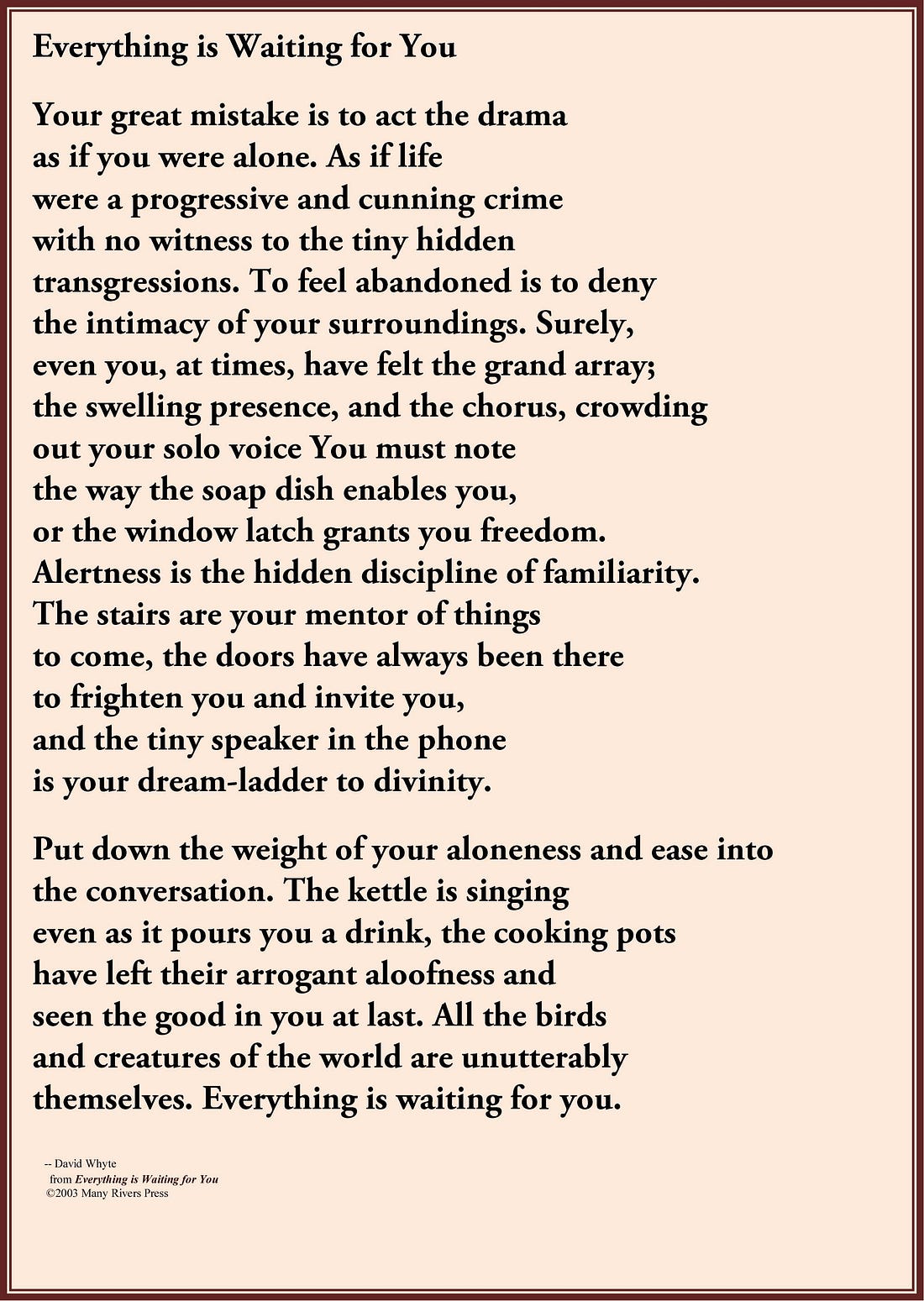 Maybe make it your lockscreen if you're into that. Maybe read it to yourself a couple times a day. Maybe do your best to be unutterably yourself. Here's to you. Here's to us. Here's to the rest of 2019. And here's to 2020 because it will be here before we know it.
to be continued…
Gabrielle
**Book recommendation: Women Who Run With the Wolves. If you know, you know. I'll be revisiting this resource too.